All Inventory
8x20 Exhibitor 8 Pen Rear ramp
Stock #: 77273F
7 wide 16 foot long 6 pens lined and insulated ceiling and walls 4 ft ramp rear
Stock #: 06451F
2023 Frontier 7x20 Low Pro DDFW; 8-Pen Stock Combo Trailer 7' wide20' long6'6" tallBumper pullAll box tube aluminum chassisV-nose with stainless steel nose wrapOne piece, .040 aluminum roof with heavy duty radius roof extrusionExtruded aluminum decking, 12" O/C I-beam cross-members.040 pre painted exterior side sheets and lower extruded aluminum sidesTwo (2) tandem 5k braked, Dexter Torsion Ride Axles4-wheel electric brakes with safety breakaway kit16", 6 lug, aluminum wheels; spare includedAll LED exterior lighting with extra LED button lights all aroundNewly designed 4' adjustable and removeable stalls with spring latch system; 50/50,60/40 designOne (1) bucket hanger per stallLined and insulated ceiling and walls in stock areaDriverside escape door44" tack areaBucket hangers in tack area32"x64" exterior tack access door with sliding window and screen1/2" rubber mats in tack areaInterior pass through door from tack area to stock areaHeavy duty rear step-up rear bumper45"x18" drop down feed windows (one per stall)One (1) air gap with flip down cover per stallFull-length running boards50/50 rear doors with sliding windows and barsRear ramp over double doorsDouble LED load light package over rear doors with wall switch Descriptions are subject to error, contact 866-356-9255 for complete details. Financing is available.
Stock #: 130034D
2023 Exiss Exhibitor 716A BP 6-Pen Stock Combo Trailer Bumper pull7' wide16' long6'2" tallPlexiglasPolished aluminum slat outside stock area; .050 black aluminum sheets on nose, sides, and rear doors; vertical stainless steel piece on noseThree (3) airgaps with Plexiglass and tray in livestock area for Plexiglass storageTwo 3,500 lbs rubber torsion axles with electric brakesFive 16" Six hole aluminum wheels w' 10 ply Goodyear tires (includes spare)Convertible pen system ( 50/50 to 60/40)Six 2-way pop up ventsRubber mats on floor in tack areaRemovable accessory rack50/50 rear doors with one 19" x 26" window on each door; dual cam locks w/ lockable hasp on rear doorsRear rampRear-hinged side access door w/ air gaps; Security gate and internal lock at side access doorInterlocking extruded aluminum non-skid plank floor with 2" x 4" I-beams on 13" centersAluminum v-hitch with 2 5/16" coupler; 2,000 lbs front wind jack with wheelBreakaway switch with battery and slip hook safety chainsFull-length curbside LED light strip in interior stock area; 22" Opti-Brite interior light strip8 trough rack rows/whip holderFold down camper step at escape door and tack access door3/8 transferable warranty
Stock #: 076928F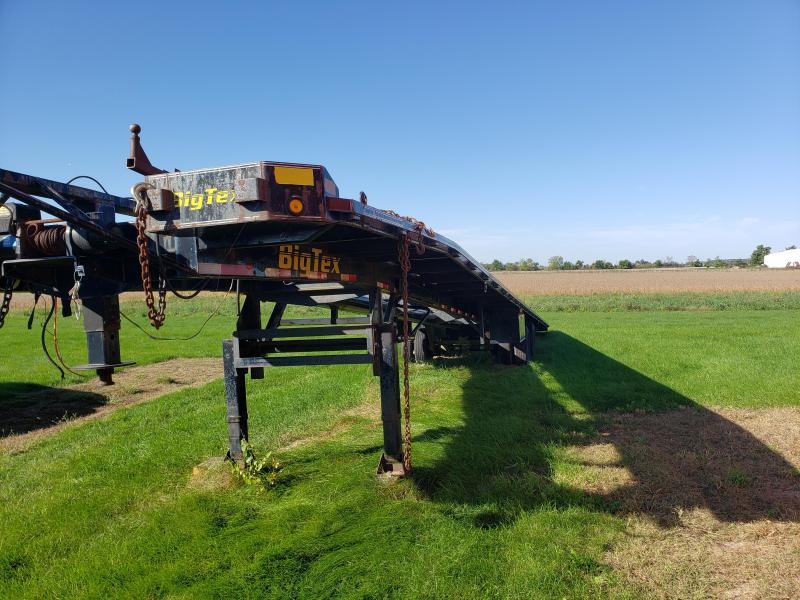 PRICE REDUCED! 2008 Big Tex 20AC-51 gooseneck auto/combo transport trailer - 53'L x 102"W 9,000 lb winch with remoteHideaway rear rampsElectric brakesTandem dual axles235/85R16 tiresGVWR 20,000 lbsLanding gearToolboxes
Stock #: 696967E
SEE PICTURES
Stock #: 17730C
Get a Quote
Please enter your contact information and one of our representatives will get back to you with more information.
Click to Call
Please enter your name and phone number to get calling options.